19.03Fspring time !

The Graduation Works of R-Ka Section
Now spring is coming. At the same time, it's the season of graduation.
Our 4th-year university students have been busy for their big-event: Graduation Works (of thesis and design).
This year I visited the Exhibition of Setsunan University's R-Ka Section (Department of Living & Environment Design), which was once again held at Honmachi Gallery.
The exhibition style has become more sophisticated year by year, and there were a variety of guests, not only university people but general people as well, and it was quite good to see students explain their own work to them so sincerely.
I also viewed their panels carefully, because I have one vote for the award as a staff.
I was so impressed by the quality of their work, which is getting higher in recent years. It's admirable.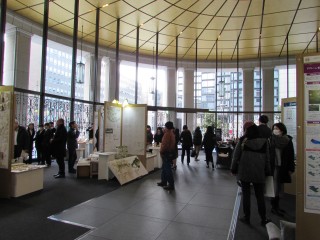 @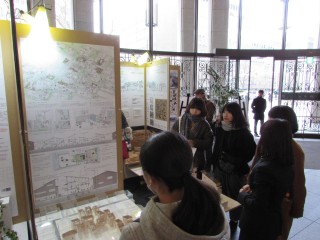 In the thesis division, each theme was excellent. All were diverse and unique, and much depth and stock has been added to this department over the past ten years.
In the design division, this year's presentations were the best quality ever. It is not only that some were excellent, but every work maintained the quality that makes me feel the maturity of this department.
Well, while I was going around with my admiration, I was also reaching to my top 5 selection:
There was one which visualized an evacuation, via a computer simulation, of broken-down buildings (houses, etc.) showing self-aid and common-aid.
One which amplified the narrow paths of Nakatsu vertically.
One which, within a normal dwelling area, added a rehabilitation facility, changing the whole neighborhood's circumstances to be better.
There was one with a plan to make the city greener: a new kind of parking tower would offer a home for birds.
And finally, a plan for nature symbiosis housing. This design moved me so much because I felt I could see the origin of the house.
I used to have an interest in the origin or beginnings of the house. But the ancient hut in which naked people lived is not enough for reference. Yet in a time after the development of civilization- for example, today- if we cannot use the "infra supply" or internal utilities of the house, and remove all attachments from the house, what kind of figure remains?
That was my interest.
This proposal was the theme of coexistence, so the design is to first build up a wall from soil to divide the space from other creatures. Secondly, a wood-roof would be built for human beings. Both materials are available in that area, and are able to be processed by hand.
That seems to be the beginning for me. Additionally, I was struck by the statement, "architecture exists to connect nature and human beings," and the allusion to Corbusier's Five Principles. Those messages were shown as if we were turning the pages of an illustrated book.
This design figure, changing as time goes, at last comes back to the first point: the beginning, the ending, and the sustainability were shown. Pure and strong work it was.
19.03.02